The Hawaiian islands were formed by volcanoes, and a hike to the Diamond Head crater on Oahu is an easy way to experience this geology up close.
Diamond Head (Leahi) crater was formed 300,000 years ago during an eruption of the Koolau Volcano further inland.
Diamond Head itself is not a volcano. Still, it has long been a symbol of not just Honolulu and Oahu but Hawaii as a whole.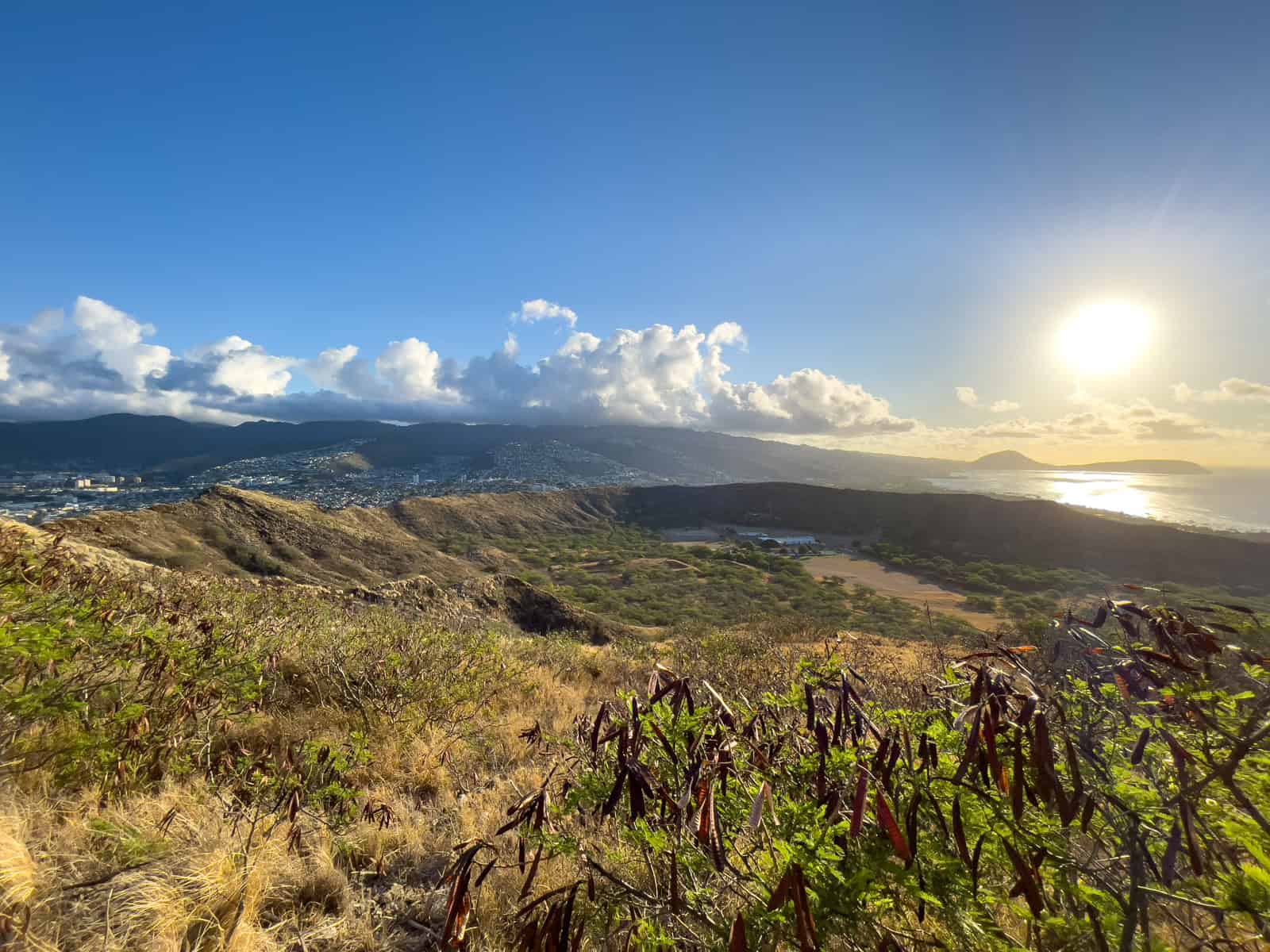 The tall crater walls are visible from Waikiki Beach, where many travelers stay.
I remember this view from 30 years ago when I visited Oahu on a family vacation. I don't recall us climbing it, though.
Fast forward to today, and I had the opportunity to see Diamond Head crater from the summit when I returned to Oahu with my girlfriend.
We went for sunrise, which is a popular time, in part, because it's cooler.
Getting There
Car
If you're driving, there's a $10 parking fee per vehicle.
While we'd rented a car for our scenic drive around Oahu, it wasn't necessary for a hike to Diamond Head crater.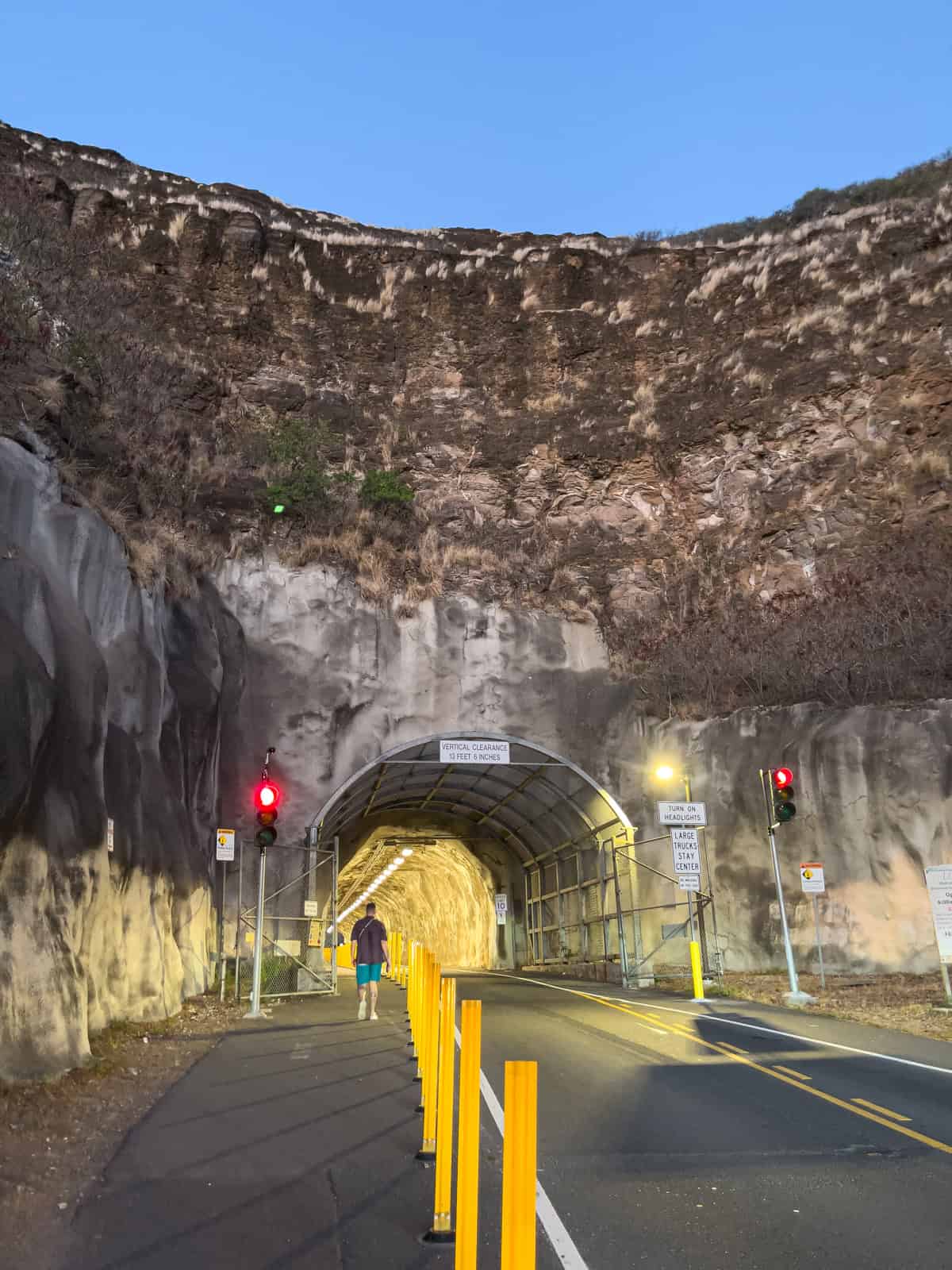 Rideshare
Instead, we called an Uber at about 5:40 am from our hotel in Waikiki Beach. It was about a 15-minute drive to the park.
However, rideshare drivers are not allowed to enter the tunnel leading into the crater and park.
They'll drop you off at the tunnel's entrance, and you can safely walk through it in the pedestrian lane. It's well lit.
We knew the park didn't open until 6 am, so that's when we arrived at the tunnel.
But, I wish we'd known to get there at 5:45 am, as it takes 10-15 minutes to walk from the tunnel entrance to the ticket gate.
Had we already been waiting at the ticket office when the park opened, we would've reached Diamond Head's summit just as the sun broke the horizon.
Instead, we were still hiking up when that magical moment happened.
The Uber ride there was $16, and the return trip was $9, making for a total of $25 roundtrip + tips.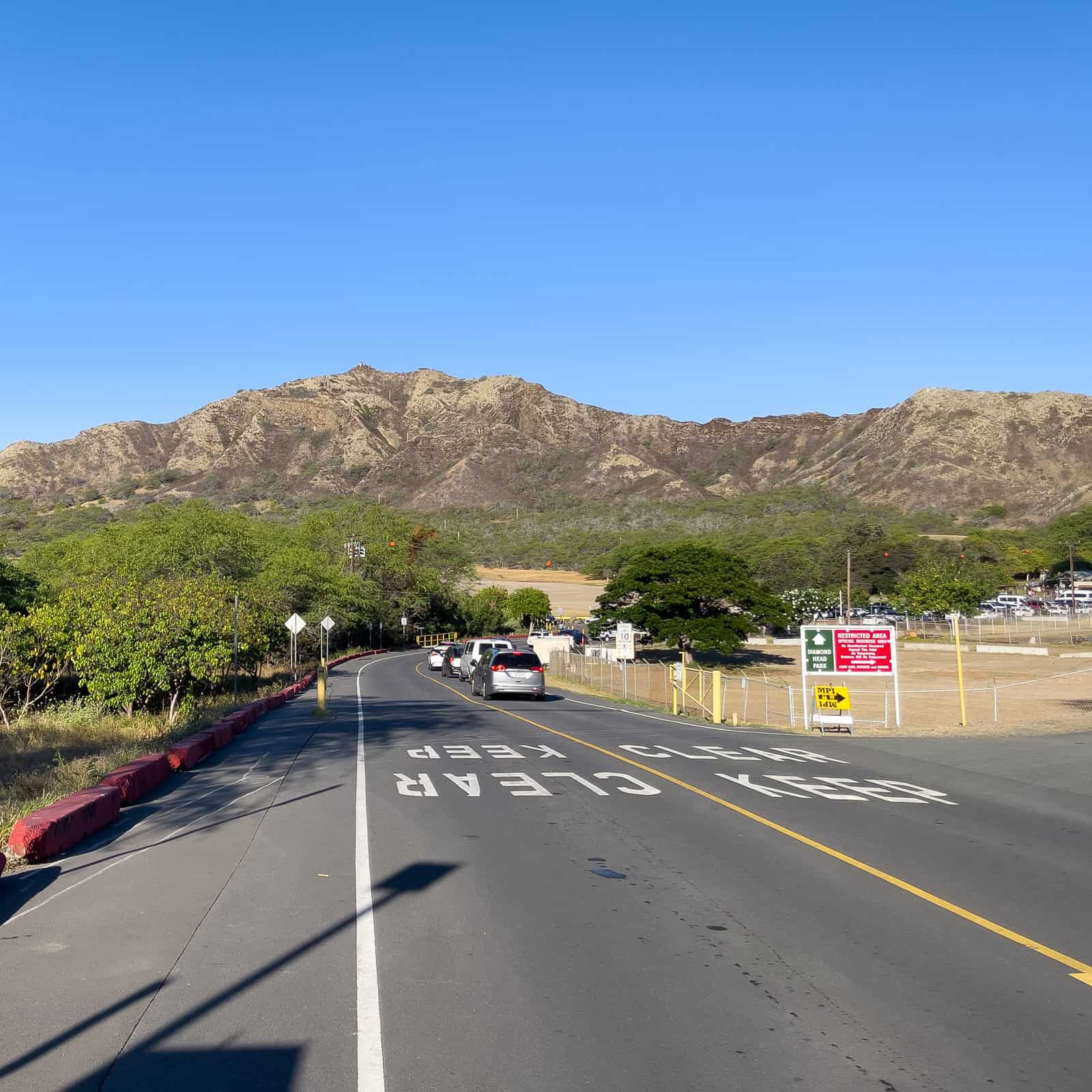 Bus
The cheapest option is to take Bus 23 from Kuhio Avenue to Diamond Head. You'll need to walk through the tunnel.
Waikiki Trolley
The blue line on this hop-on-hop-off trolley goes to Diamond Head State Monument, but the earliest departure is 9 am, so it's not an option if you want to catch the sunrise.
Also, it costs $25 per adult, though it does give you the chance to visit other points of interest on the same day, including the Halona Blow Hole.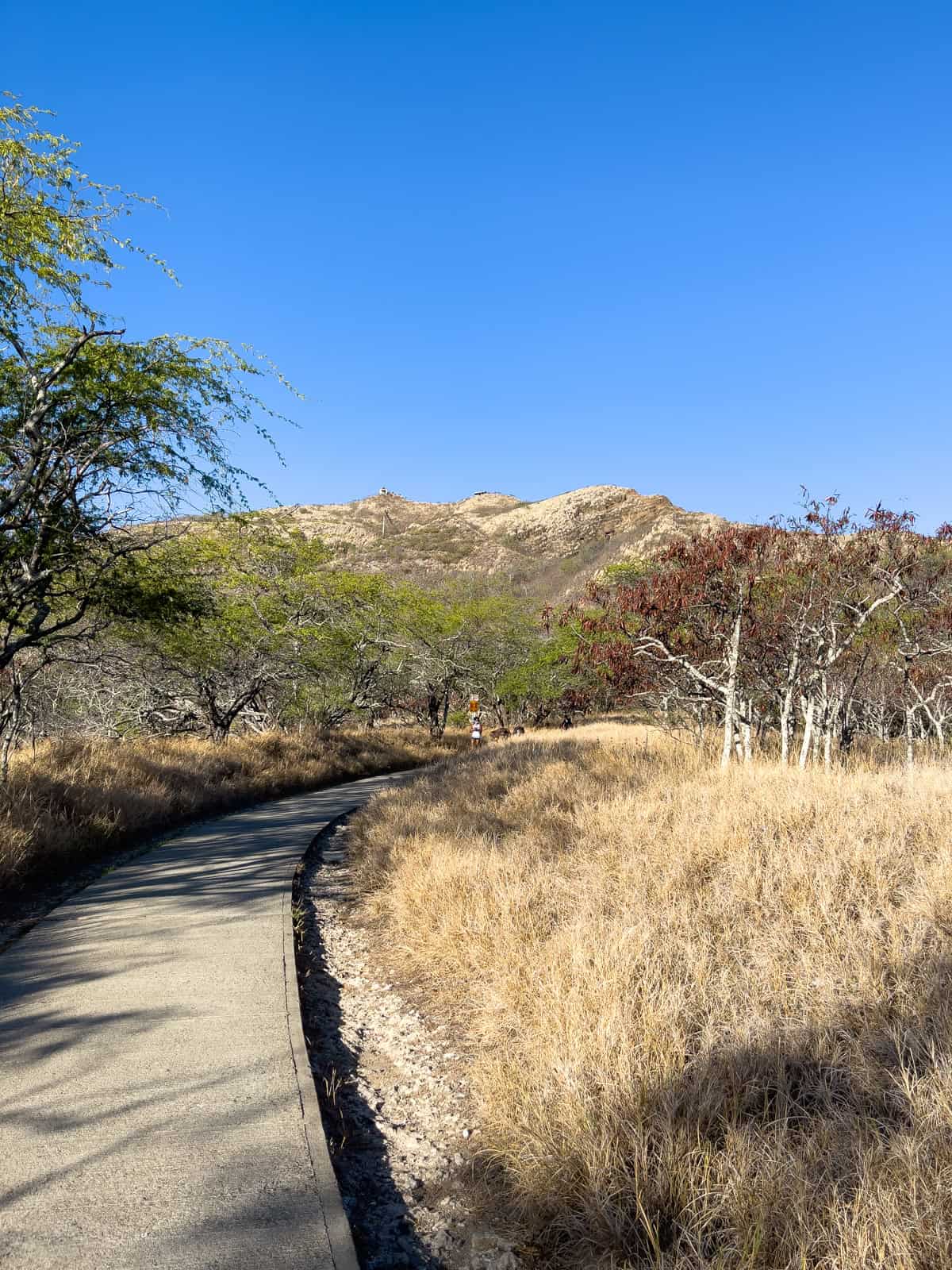 Diamond Head Trail
Once you've paid the $5 entrance fee (credit cards only), it's time to begin walking up Diamond Head Trail to the summit.
According to the park website, the "trail to the summit of Leahi was built in 1908 as part of Oahu's coastal defense system."
The hike is 1.6 miles roundtrip and begins with a gentle incline on a concrete path.
Your final destination is visible atop the rim as there are some old military structures up there.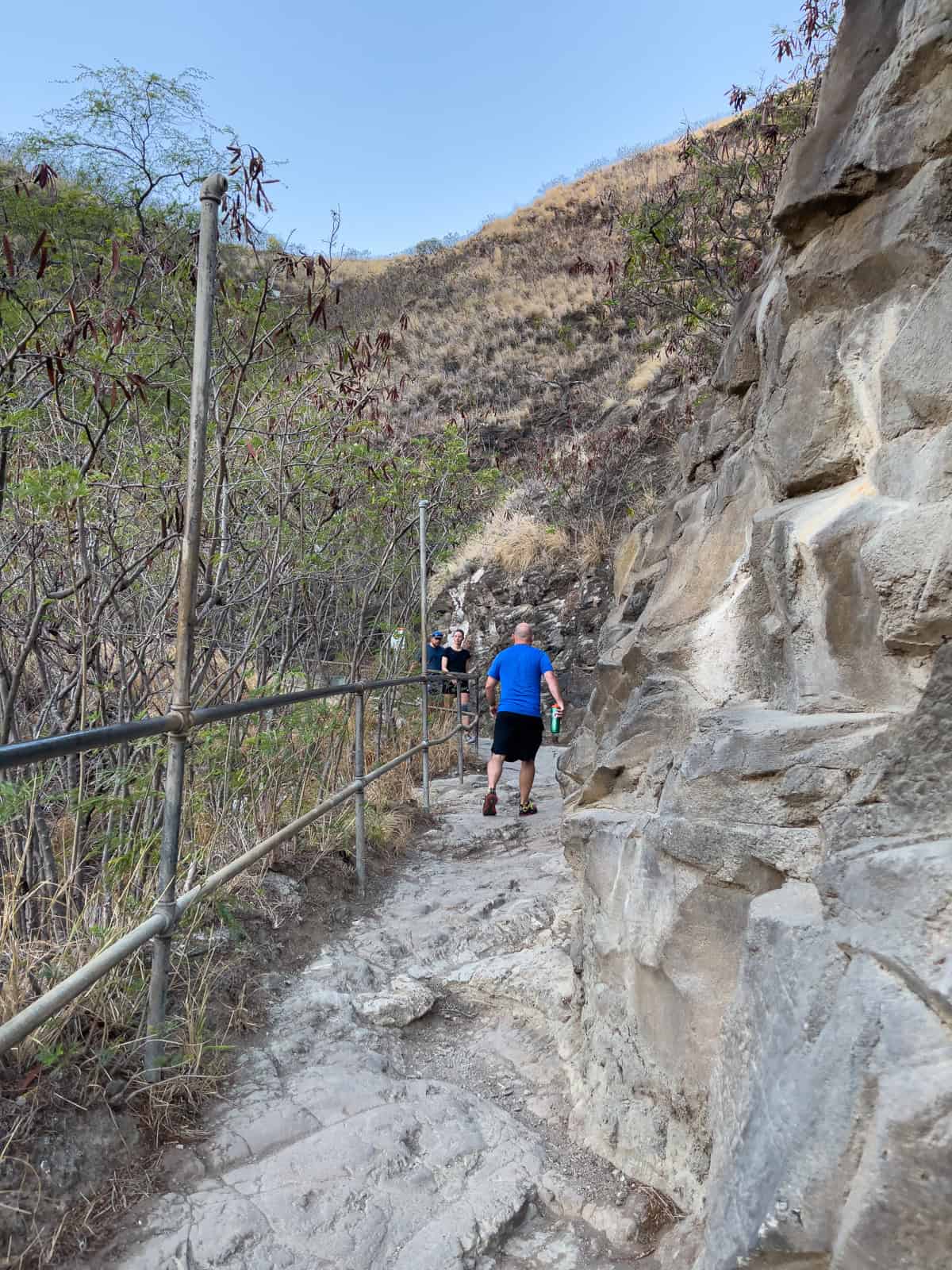 As the terrain steepens, concrete gives way to natural rock outcroppings.
They're not hard to navigate on foot, but I wouldn't try and take a stroller up Diamond Head Trail.
At this point, we were already encountering some hikers making their way down.
I suppose if I had the scenic summit to myself at sunrise, I'd be keen to get off it once more people started arriving.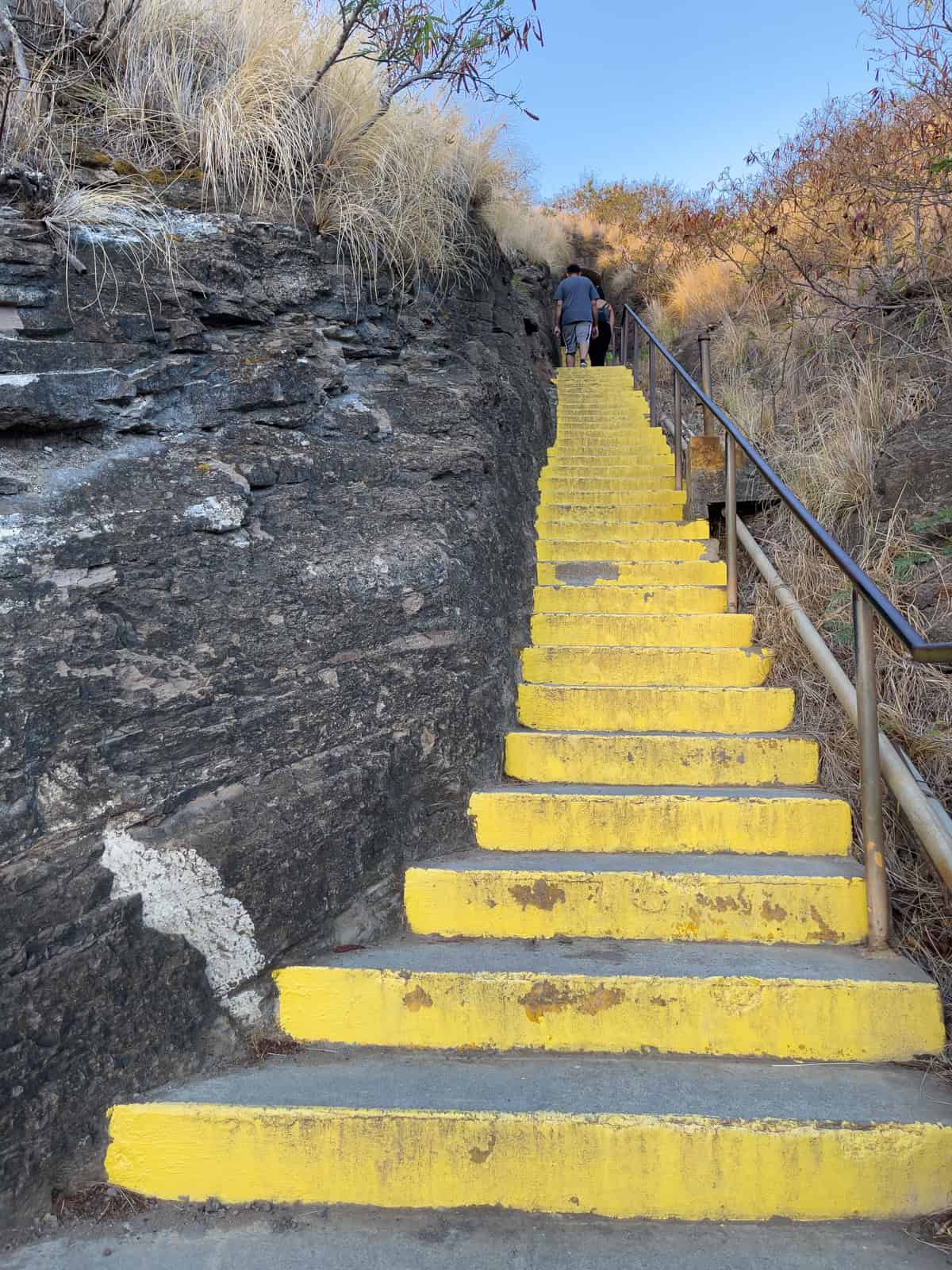 The rocky path eventually takes you to a steep staircase, painted bright yellow — you can't miss them.
The staircase leads into a 225-foot, dimly lit tunnel. Clastrophobes may not enjoy this part, but it doesn't last long.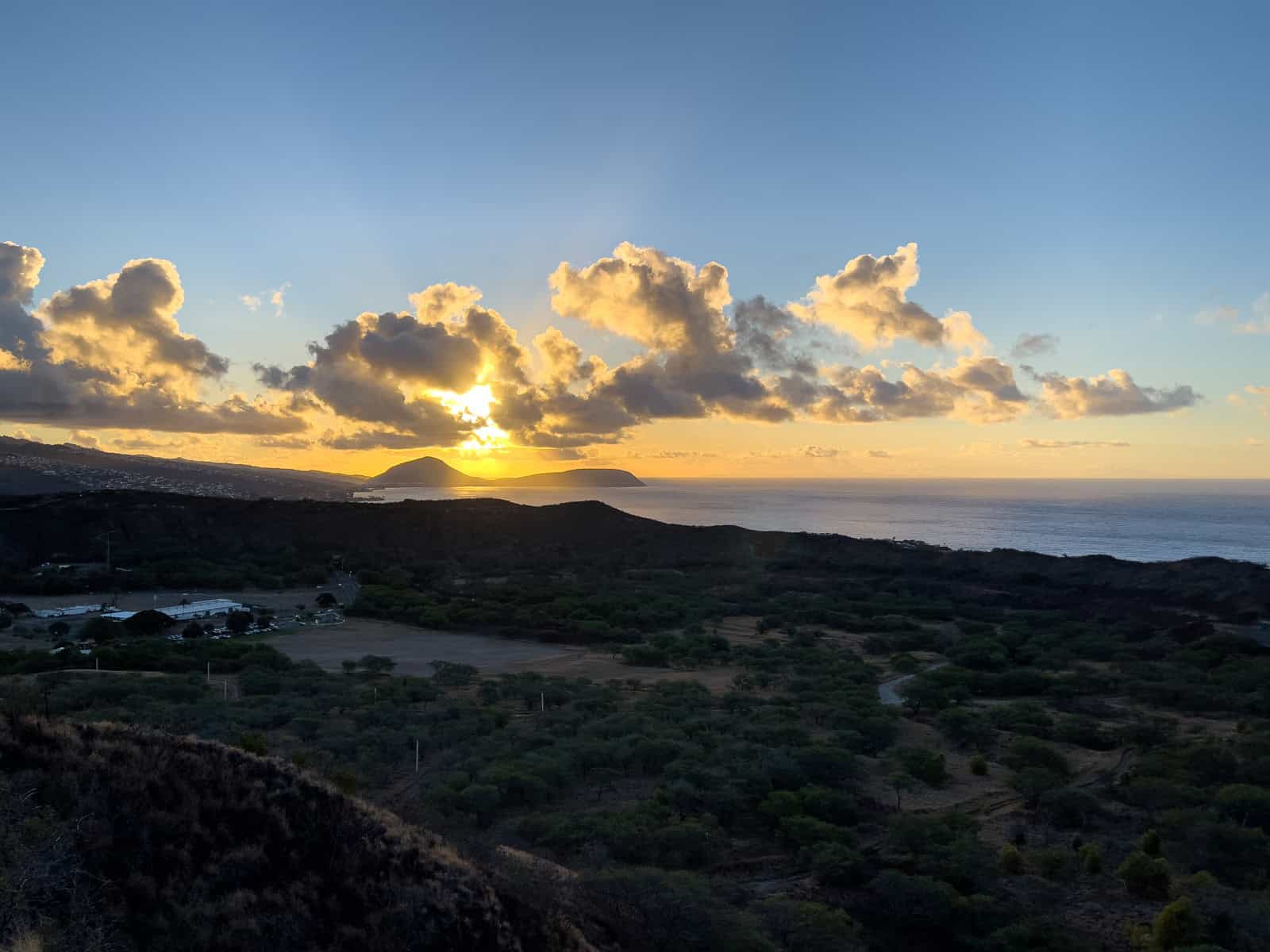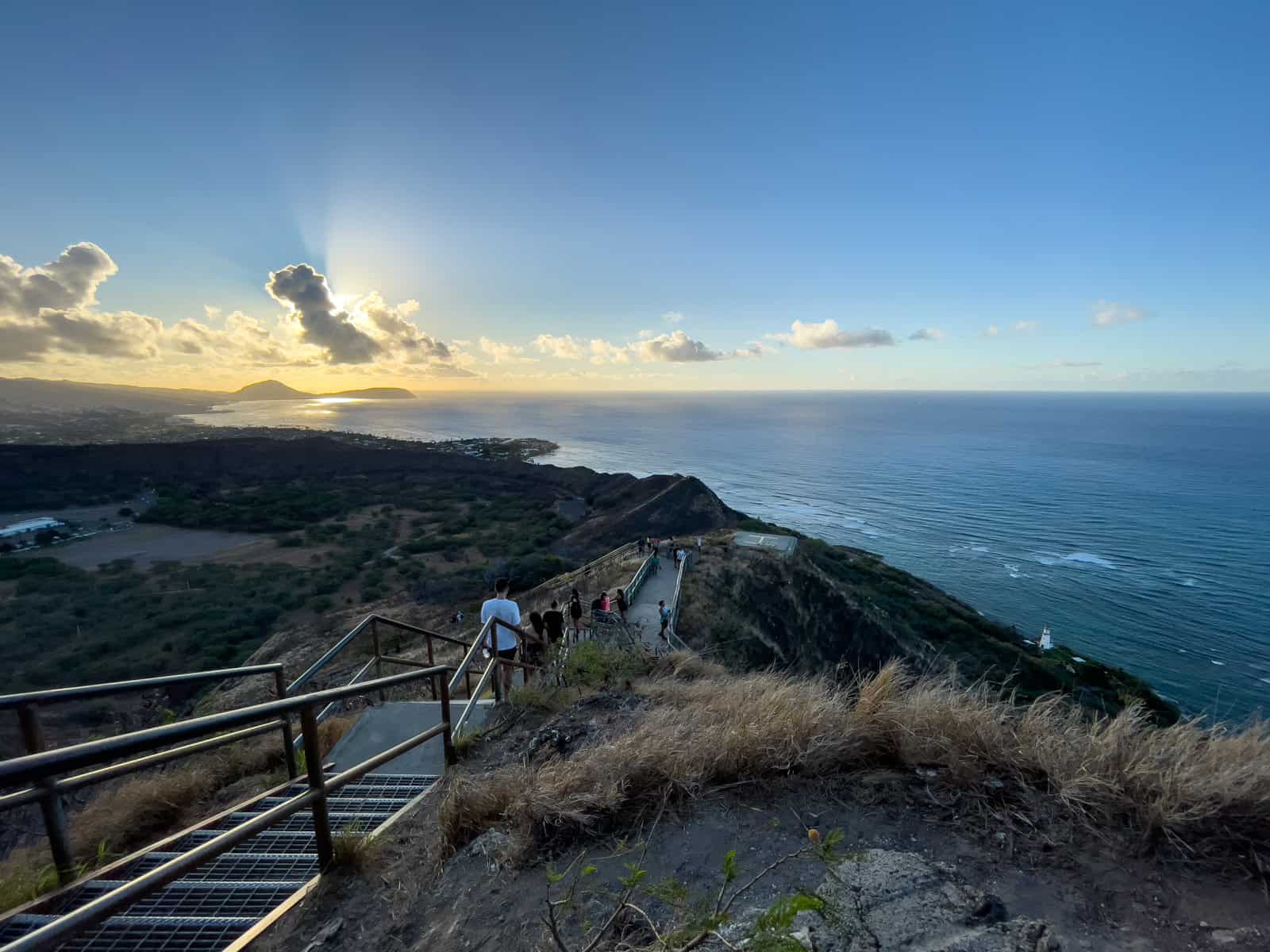 Once you exit the short tunnel, you'll have some more steps to climb before reaching the crater's summit.
A helipad is visible, which I imagine is used in the event of emergency rescues.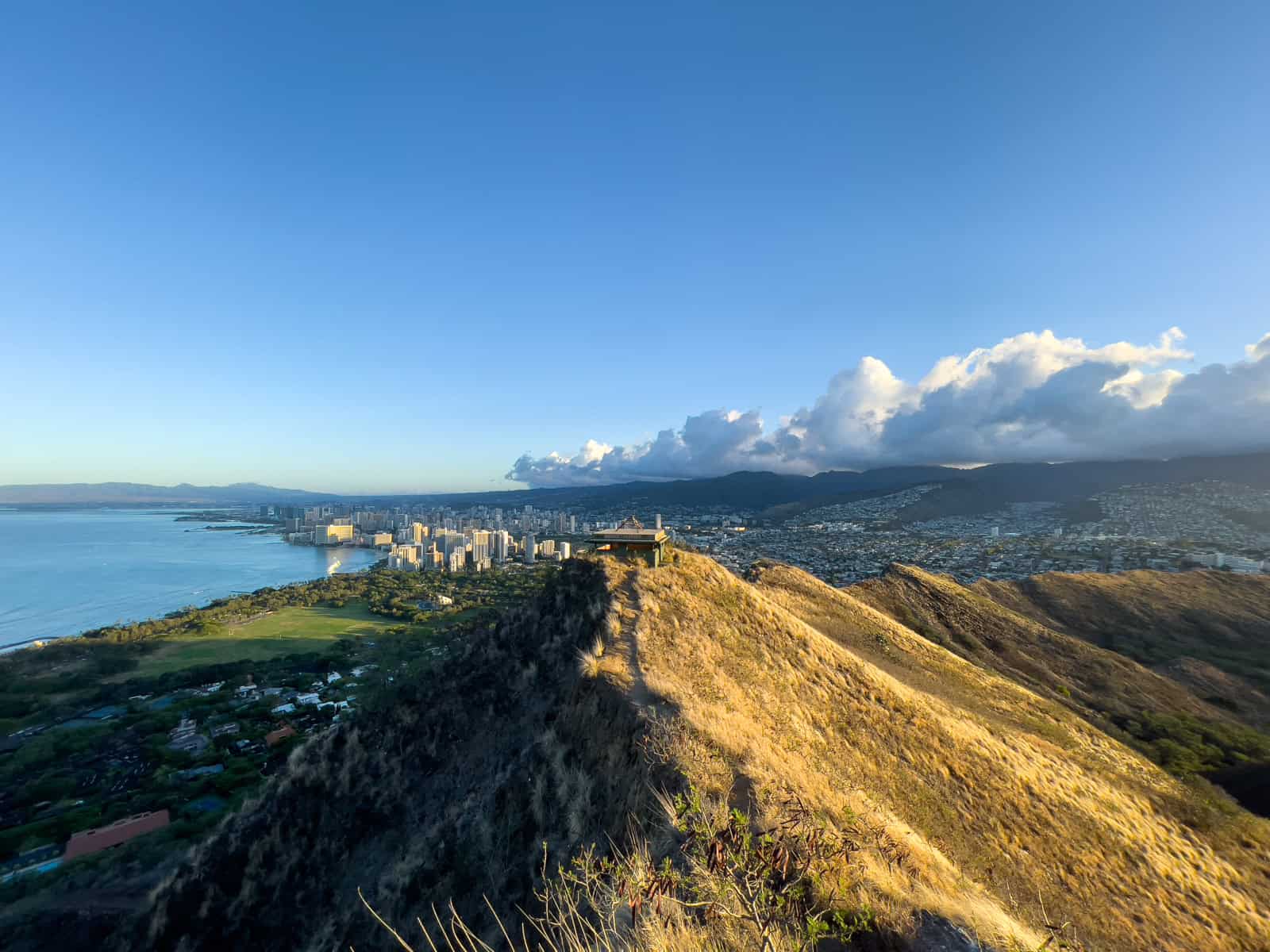 Diamond Head Lookout
Once you reach the top of the crater, there are a bunch of old military bunkers with commanding views of Oahu's coastline.
It's fun to have something to climb on or around once you're up there.
There's Waikiki Beach and Honolulu to the west and the sunrise and Koko Head Park and Crater (also walkable) to the east.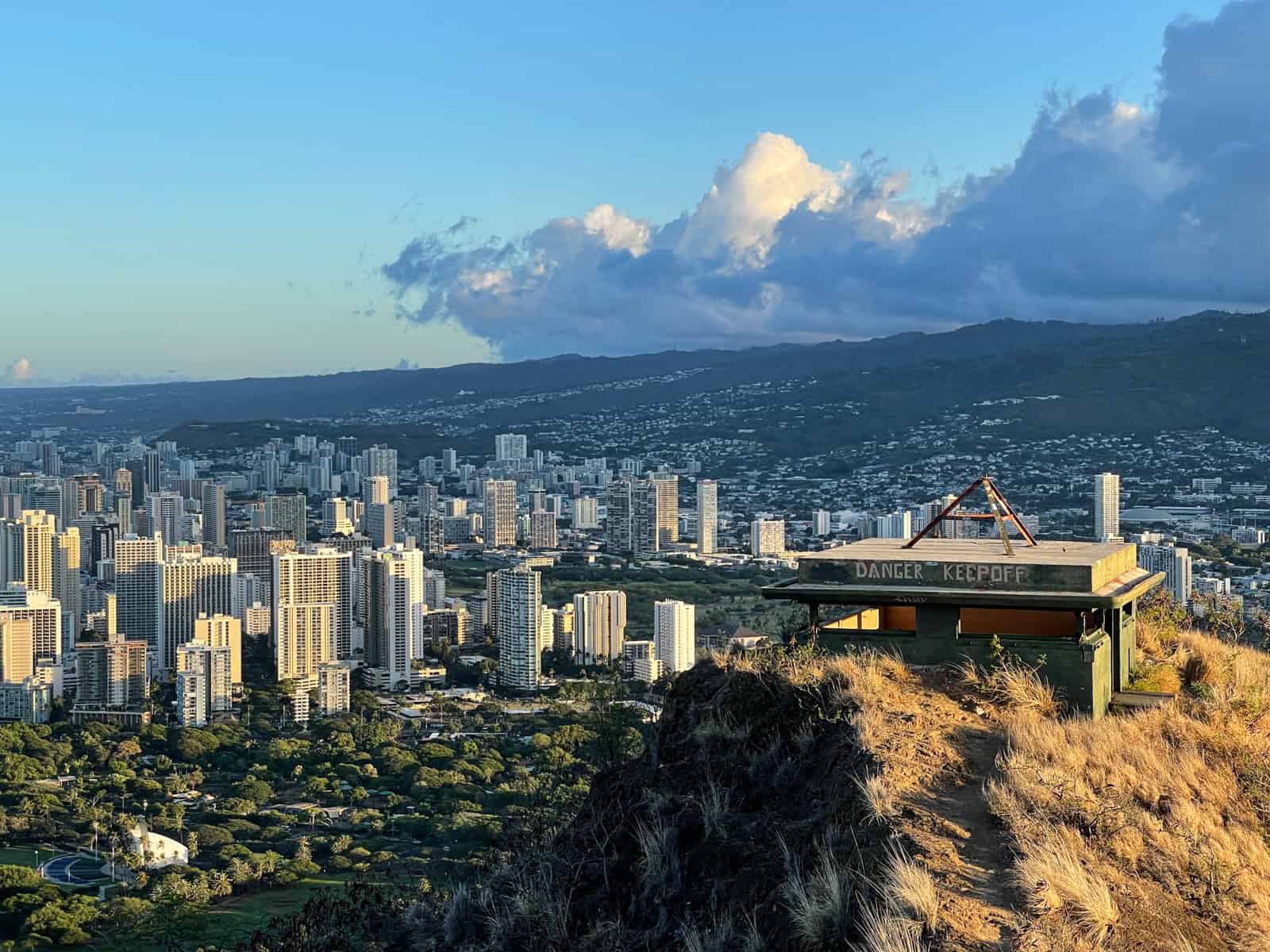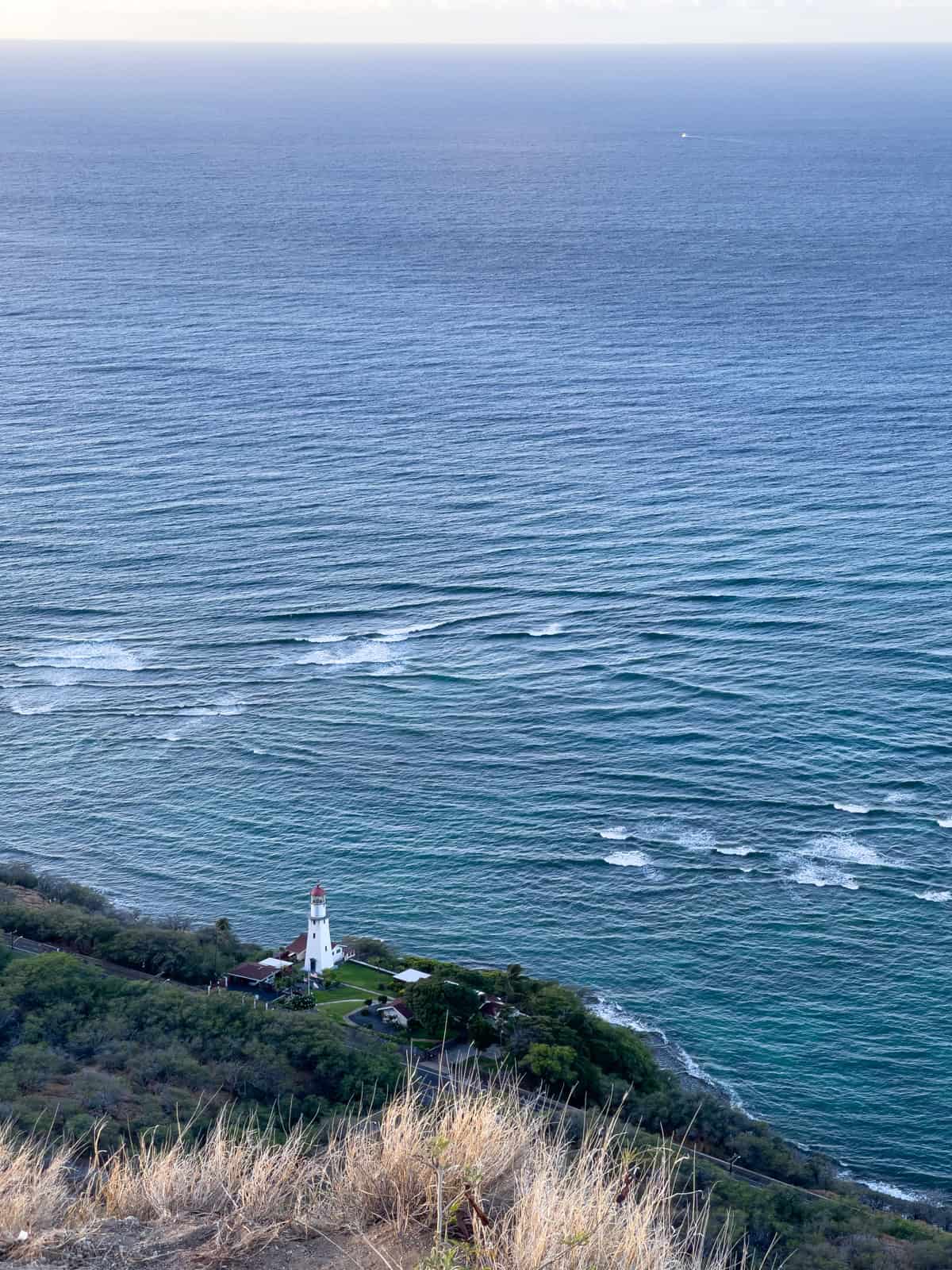 Overall, it was a relatively easy hike for me, which is not to say I didn't need to stop and catch my breath from time to time. The views were worth it, though.
Kel and I returned to our hotel for a well-deserved breakfast and still hand plenty of time to hang out on Waikiki Beach and tour Iolani Palace, the former residence of the last royal Hawaiian family.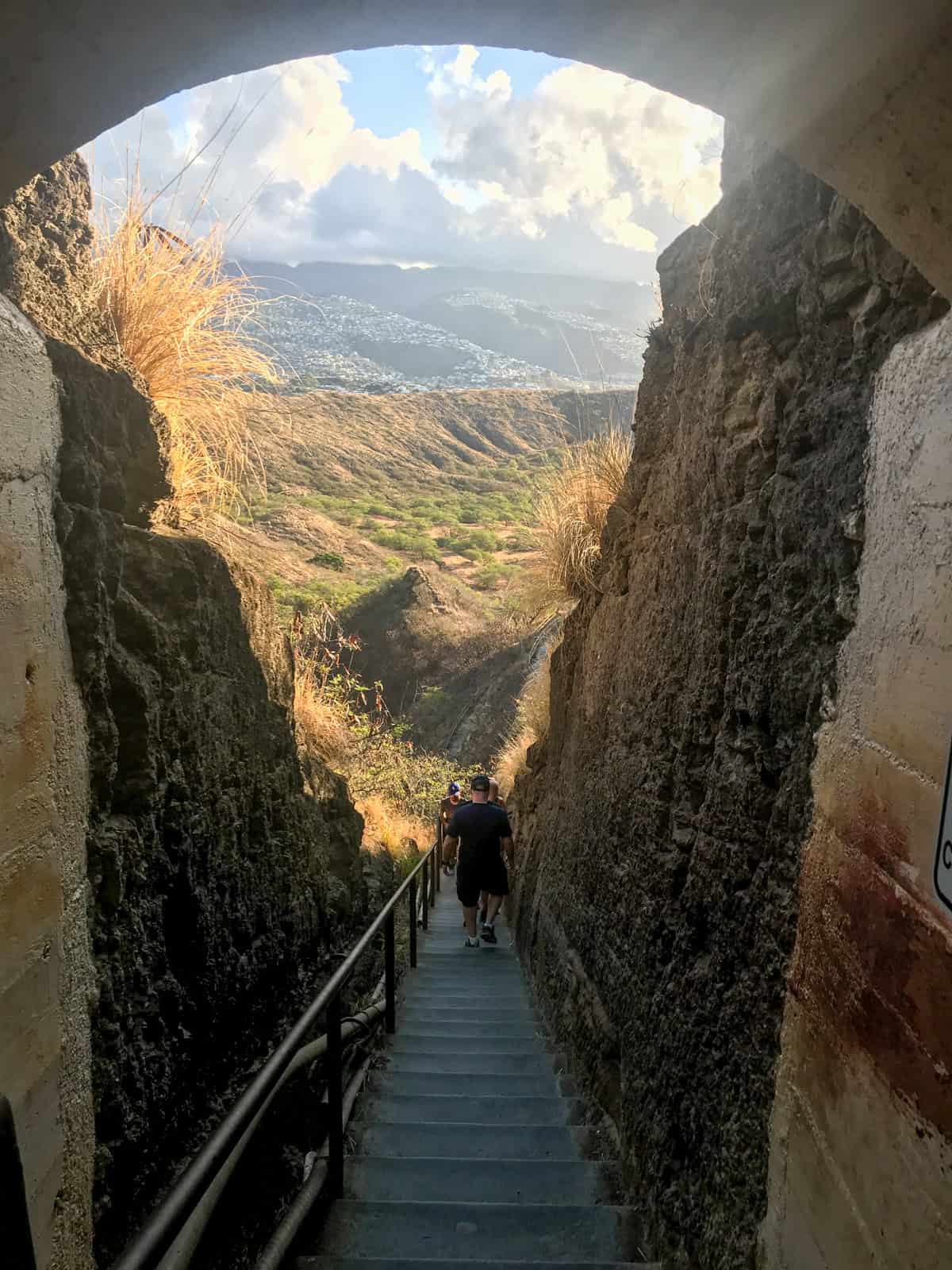 Plan Your Hike
When's the best time to hike Diamond Head?
Diamond Head State Monument park in Oahu is typically open from 6 am to 6 pm, daily.
Sunrise hikes are popular, and for those, I'd suggest planning to be at the ticket office at 6 am.
If you're not tied to sunrise, I'd still aim for the morning, as the sun is lower in the sky and temperatures cooler. There's little shade once you begin the hike.
Hikers cannot begin the hike after 4 pm, and all visitors must be out of the park by 6 pm.
How long does it take to hike Diamond Head?
I'm 44 and able-bodied and was able to reach the summit in 25 minutes. If you're more athletic than me, you can surely get up faster or with less effort.
What's the difficulty level for hiking Diamond Head?
A hike to Diamond Head is considered easy. While there are steep sections, much of the trail is paved, and there are guardrails.
Heavier hikers or older folks may find it moderate to difficult.
What should you wear?
Since it's mostly paved, you could get away with wearing flip-flops or sandals, but I wouldn't recommend it.
I'd suggest closed-toed travel shoes or sneakers, preferably ones with some cushion. I wore my favorite running sneakers.
Dave is the Founder and Editor in Chief of Go Backpacking and Feastio. He's been to 66 countries and lived in Colombia and Peru. Read the full story of how he became a travel blogger.
Planning a trip? Go Backpacking recommends: