Ecuador is a wildly diverse country. And thanks to its compact size, there are a ton of things to do in Ecuador.
Best of all, they can be experienced in a short period. Adventurers will enjoy opportunities to mountain bike and climb snow-capped volcanoes.
At the same time, those seeking a more relaxing experience can cruise around the Galapagos Islands or go shopping in Otavalo Market, South America's largest.
As you'll see below, there's no shortage of amazing things to do in Ecuador.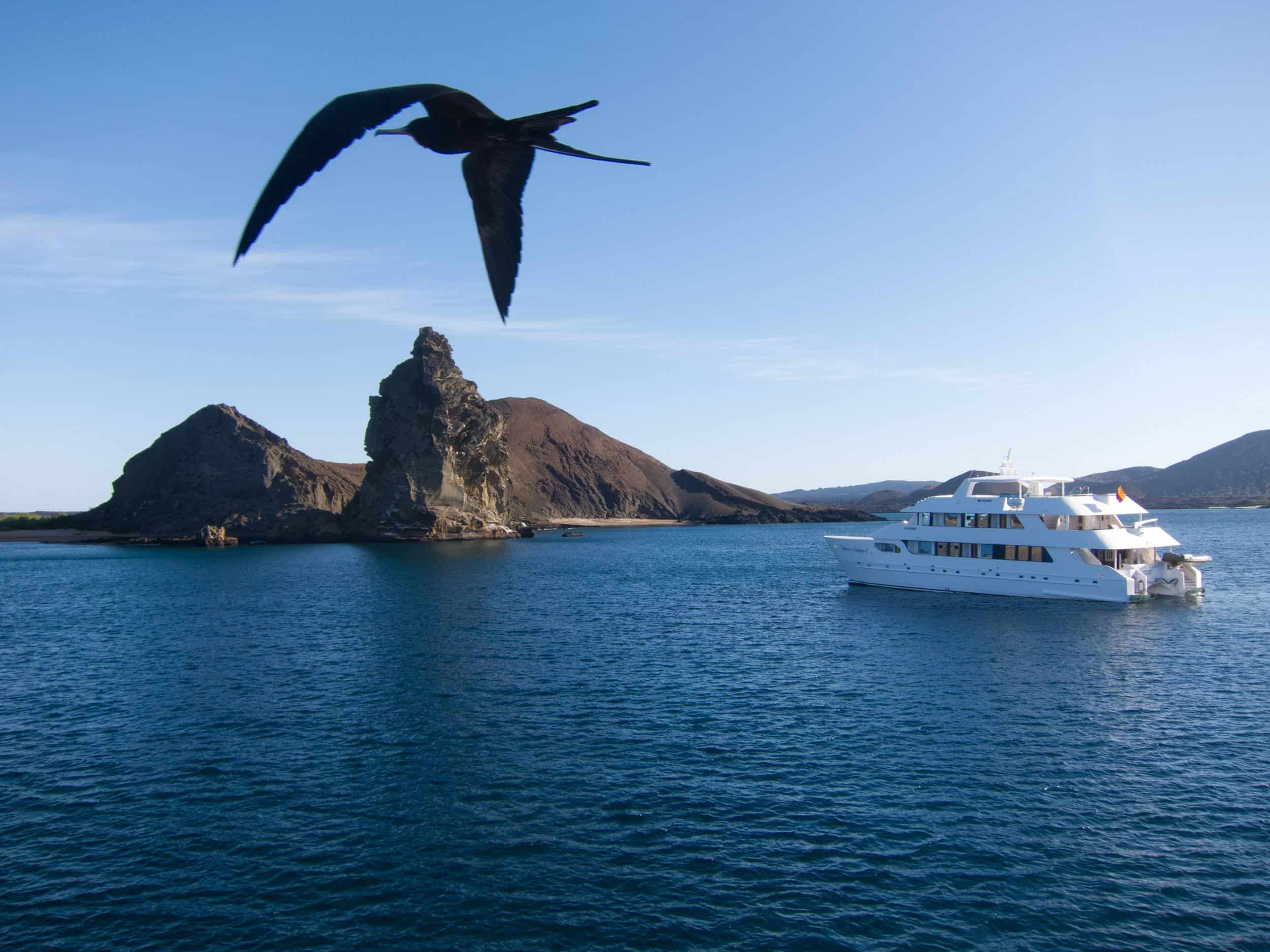 Top 10 Things to Do in Ecuador
1. Cruise the Galapagos Islands
Tour the historic islands where Charles Darwin developed his theory of evolution.
Go swimming with sea lions, discover the mating habits of Blue Footed Boobies, and learn the geology behind how this volcanic island chain was formed.
If you've got time to spare, you can book a last-minute cruise to the Galápagos once you reach Quito or Guayaquil and save hundreds of dollars in the process.
Where to Stay in the Galápagos: Puerto Ayora, Santa Cruz Island
On the cheap – El Descanso del Petrel has bunks from $15 per night and doubles from $34 per night. Downtown Puerto Ayora, close to cafes and restaurants.
Budget – Hostal Gardener Galápagos has bunks for $22 and doubles for about $48, made-to-order breakfast included.
Splurge a bit – Hotel Galápagos Suites B&B is highly rated and close to many bars and restaurants. Large cozy rooms can be had for $115 and (obs) includes a hot American-style breakfast.
Where to Stay in the Galápagos: Puerto Baquerizo Moreno, San Cristobal Island
On the cheap – La Casa de mi Sub has double rooms for $50 or $25 for a single traveler. Very close to the airport, shuttle service available.
Budget – Casa de Jeimy is a popular and well-liked property. Shared kitchen, terrace with great views. Single $36, or doubles $72.
Splurge a bit – La Zayapa is a favorite spot, and you'll find rooms that are very comfortable and going for about $140. Breakfast is included.
Want to book a Galapagos cruise in advance? Compare these two fantastic trips from G Adventures!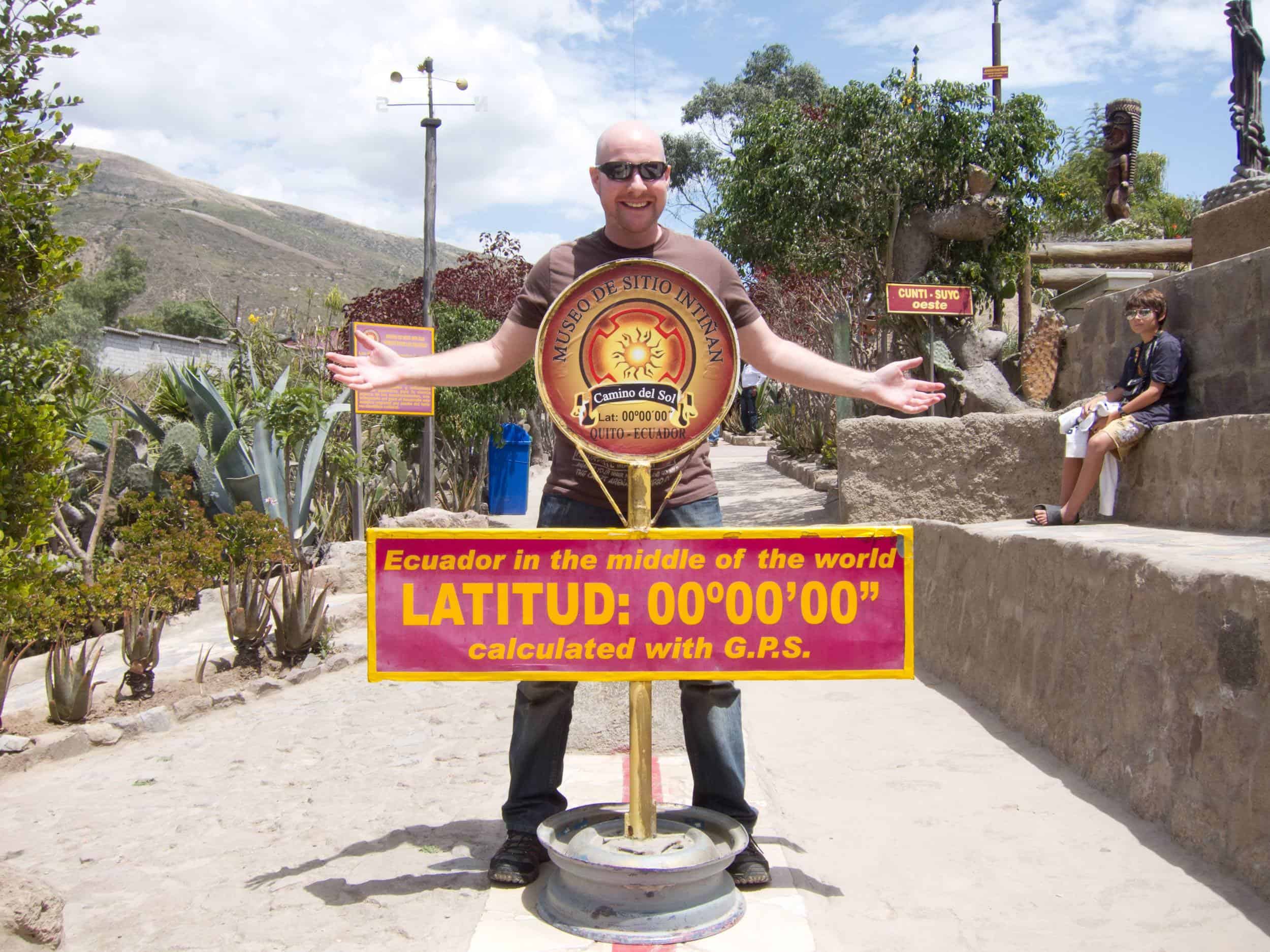 2. Straddle the Equator in Quito
Visiting the Equator, known in Ecuador as the Mitad del Mundo (Middle of the World), is as easy as a few bus rides, or a faster but costlier taxi ride, from the backpacker neighborhood of La Mariscal.
Be sure to visit both the real Equator, which is marked with a series of exciting experiments, as well as the more massive monument built in the wrong place about 100 meters away.
Where to Stay in Quito
The Secret Garden (Editor's Choice) – great views and great meals on the rooftop, comfortable rooms, and an excellent location for exploring.
Color House Petitte Hostal – great location, lots around, including public transportation and nightlife. Bar on site, breakfast included.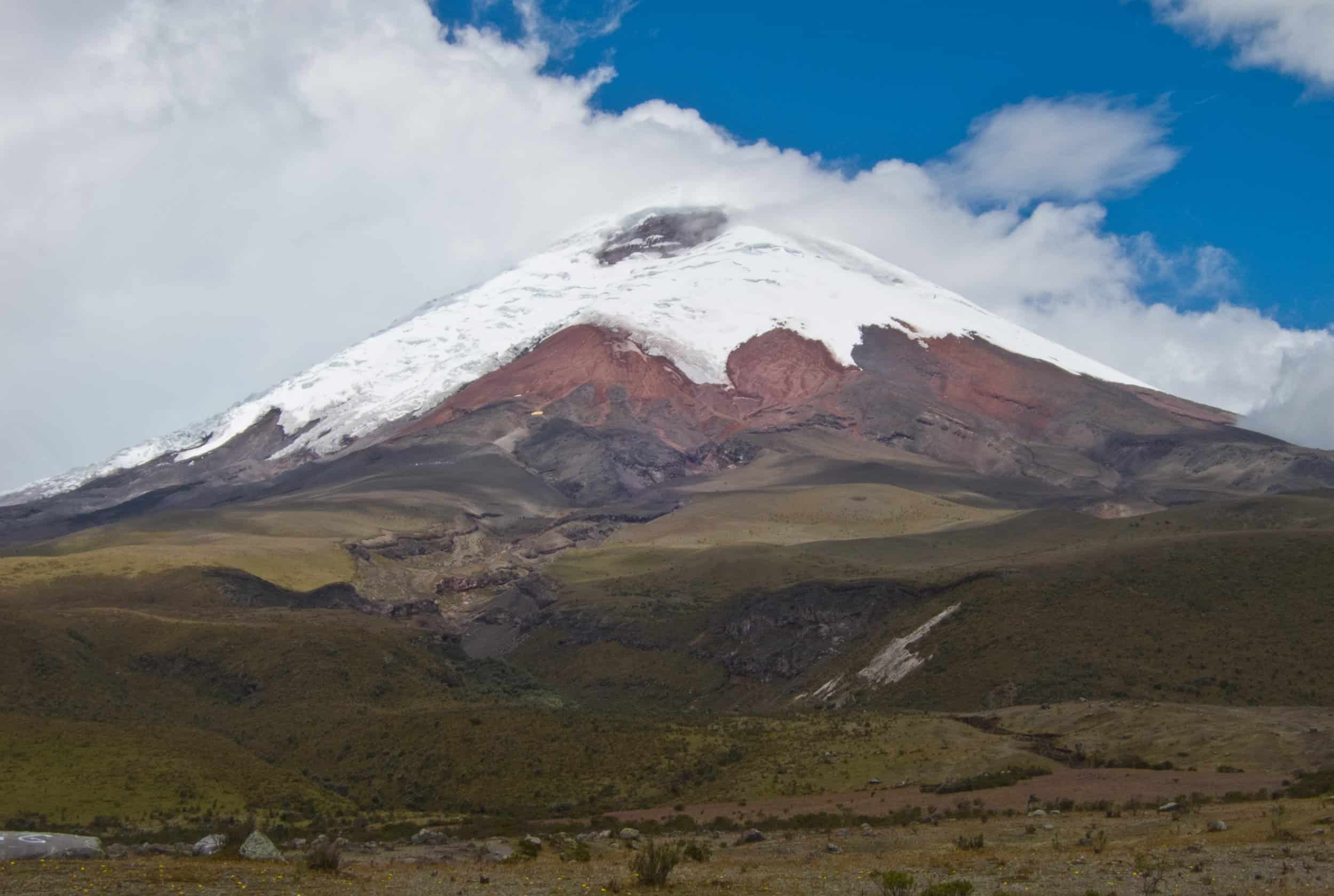 3. Downhill Mountain Biking on Cotopaxi Volcano
If you're not ready to climb 5,897-meter Cotopaxi, Ecuador's second-tallest volcano and one of the world's tallest active ones, go downhill mountain biking instead!
Mountain biking Cotopaxi Volcano is an adventure activity fit for most people, regardless of age. And it's an easy day trip from Quito.
You'll drive up to the parking lot at an elevation of 4,500 meters above sea level and jump on mountain bikes for a fun and fast ride back down to 3,300 meters.
Tours typically include lunch at the bottom, where you can continue to take in the beautiful scenery before pedaling over flat terrain to your departure point.
Riding down an active volcano is one of the most adventurous things to do in Ecuador.
4. Shop at Otavalo Market
Otavalo Market, located about a three-hour bus ride north of Quito, is South America's largest marketplace.
It's the perfect place to practice your haggling skills while picking up a few authentic souvenirs for your family and friends at home.
The best day to go is Saturday when the market swells to its largest with vendors from the surrounding region.
Where to Stay in Otavalo
El Andariego Otavalo is just two blocks from the famous Plaza de Ponchos and the market. Communal kitchen, clean and comfortable.
Hospidaje Los Ponchos – A double room is about $20 a night, half for a solo traveler. The location can't be beaten as you're right on top of the famous market.
5. Explore the Amazon Jungle
Ecuador is one of the cheapest places in South America to visit the Amazon rainforest.
Get up close and personal with the exotic wildlife found in the rainforest, and learn about the indigenous people who call the region home.
Guided Tour
The 14-day Inland & Amazon tour by G Adventures includes Quito, the Amazon, Banos, and Otavalo.
6. Trek the Quilotoa Loop
The Quilotoa Loop is a three to four-day, high-altitude adventure mixing local buses with mountain treks.
Altitudes can reach up to 4,000 meters, so be sure to acclimate for a few days nearby or Quito before getting started.
The highlight for many is a view of the picturesque Laguna Quilotoa, a crater lake that also offers stunning views of nearby volcanoes on clear days.
Where to Stay on the Quilotoa Loop
Hostal Chukirawa – a cozy little guest house on the lake; breakfast and dinner included. Just a few minutes walk to the bus station. Heated by wood fires, dress warmly!
Hostal PrincesaToa – more expensive than Hostal Chukirawa but a bit more modern, too. On the lake, close to the bus, breakfast included and toiletries and coffee-making facilities in the rooms.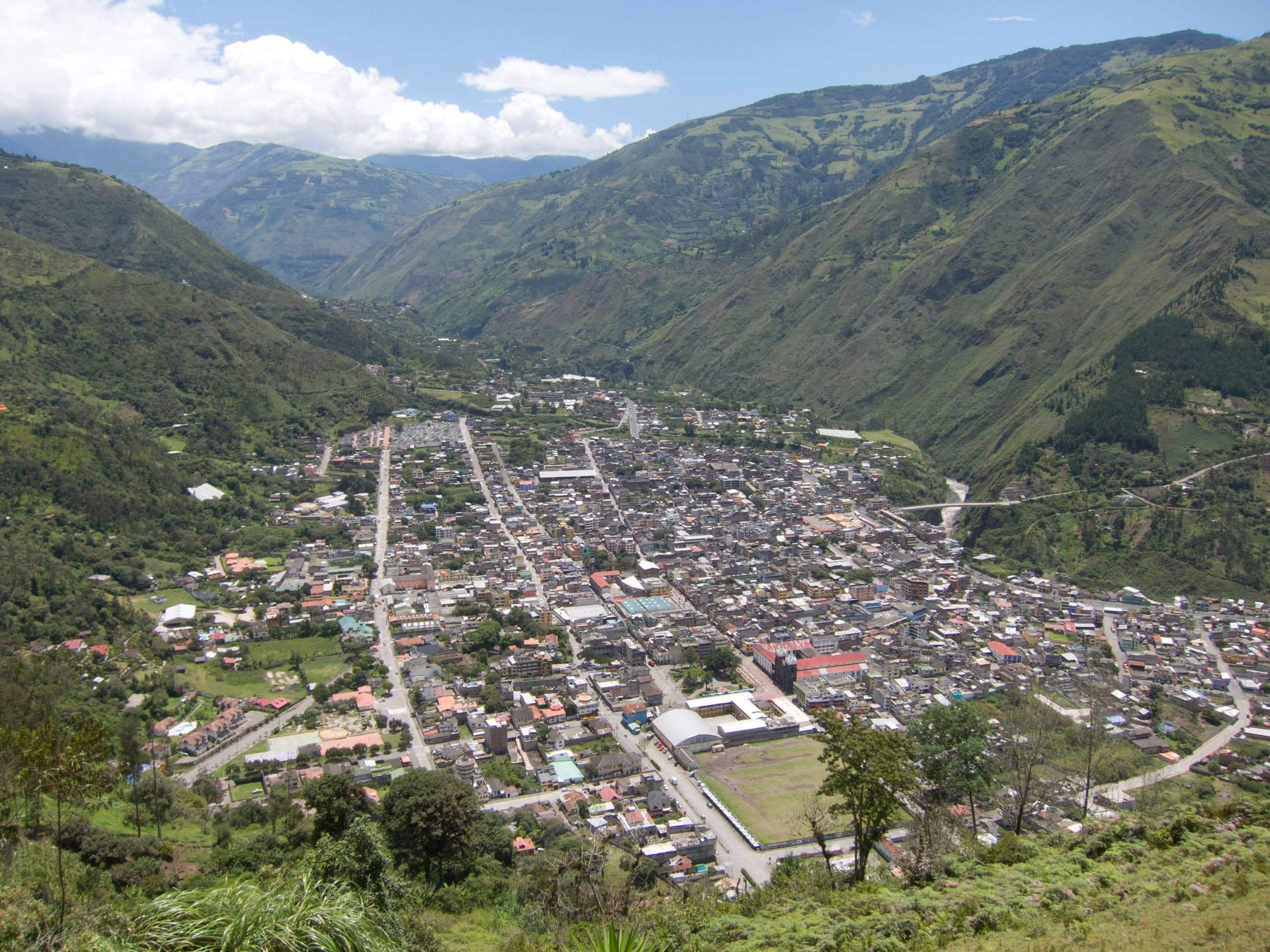 7. Get Wet and Wild in Banos
Banos is the self-proclaimed adventure capital of Ecuador.
This small mountain pueblo is home to a broad range of activities, including:
climbing nearby Tungurahua Volcano
whitewater rafting
paragliding
mountain biking
bridge swings
hot springs
When the volcano is actively erupting, it's possible to see red lava at the top.
Where to Stay in Banos
Hostal El Recreo is a well-reviewed spot with a friendly vibe, games room, terrace, and free laundry facilities.
Hostal Transilvania – a good budget option, close to the center and a short walk to the buses. There is an on-site restaurant, game room, and kitchen facilities.
See also: The Best Hostels in Banos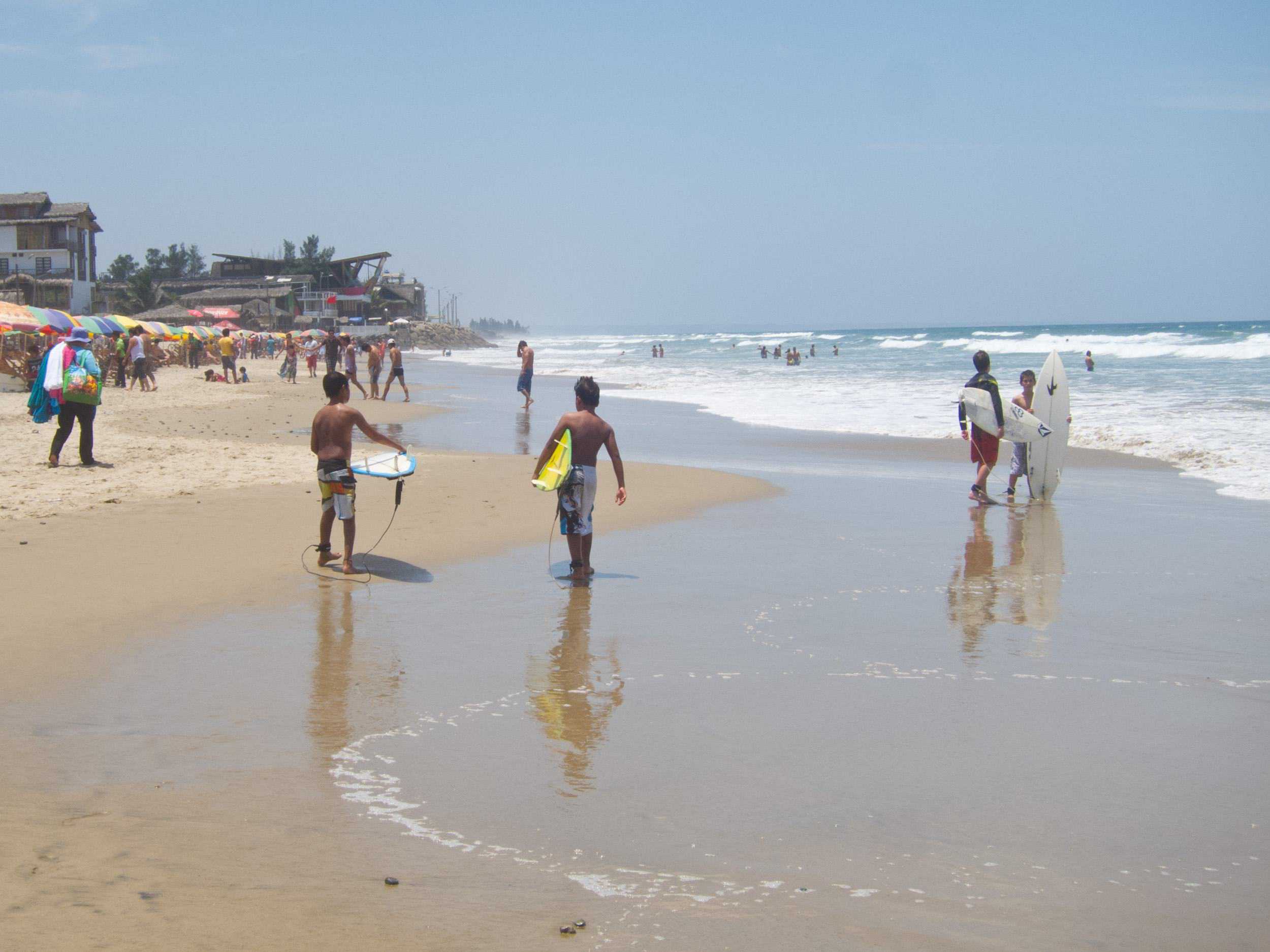 8. Learn to Surf in Montanita
Montanita has long been a favorite surf spot.
It has undergone a construction boom in recent years as Ecuadorians and expats get in on the increasing number of tourists visiting this small Pacific pueblo.
Every weekend, vacationing Ecuadorians (especially those from nearby Guayaquil) flood town to visit the beach, surf, and enjoy the raucous nightlife.
Drug laws are loosely enforced, and it's common to see or smell marijuana being smoked (or consumed in the form of "happy" brownies) on the streets.
Where to Stay in Montanita
Hostal Mamacucha is a stone's throw from the beach and just a few minutes walk to the town center. Kitchen, pool table, coffee shop, tours, and lots of hammocks!
Hurvinek is a nice little budget hotel super close to the beach and provides a daily buffet breakfast. Private bathrooms with purified, drinkable water and great views from the balconies.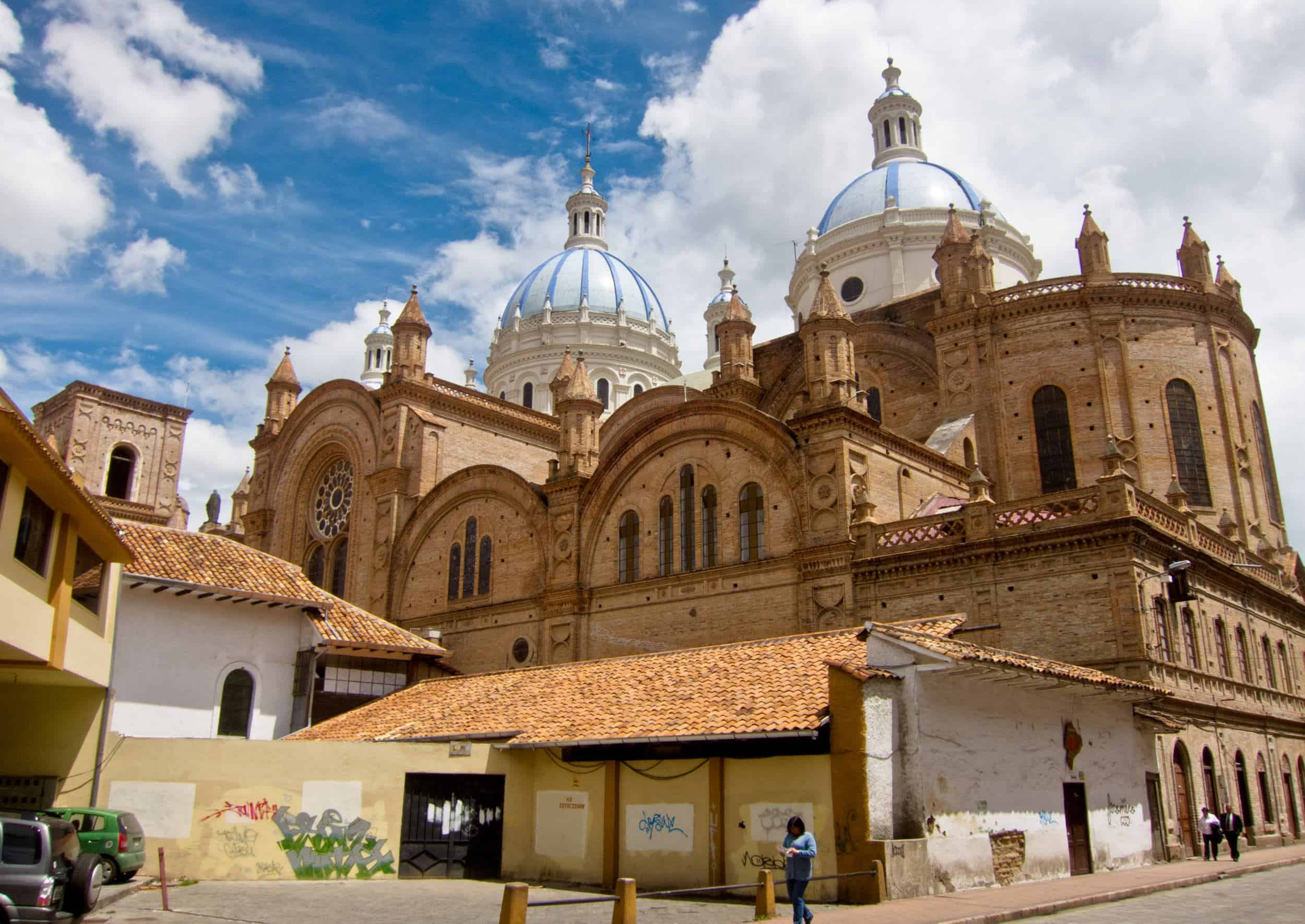 9. Walk Cuenca's Historic City Center
Ecuador's third-largest city also boasts its prettiest center.
Filled with dozens of churches and one impressive cathedral, Cuenca is listed as a UNESCO World Heritage site due to the preservation of its historic buildings.
The largest and most impressive of these is La Catedral Metropolitana de la Inmaculada Concepción (pictured above).
At 2,500 meters in elevation, the weather can vary considerably throughout the day, from cold mornings to hot, sunny afternoons.
Cuenca is the best place in Ecuador to sample cuy (guinea pig).
To escape the city for glacier-formed valleys, go for an independent or guided hike in nearby El Cajas National Park (3,300-4,200 meters).
Where to Stay in Cuenca
Bauhouse is a centrally-located, bright, and cheery hostel with comfortable beds. A daily American-style breakfast is included, a kitchen is available, and there are weekly activities.
Hostal Restaurant La Cigale has dorms and private rooms, offers breakfast, has a bar on-site, and is just a few minutes walk to the center and river.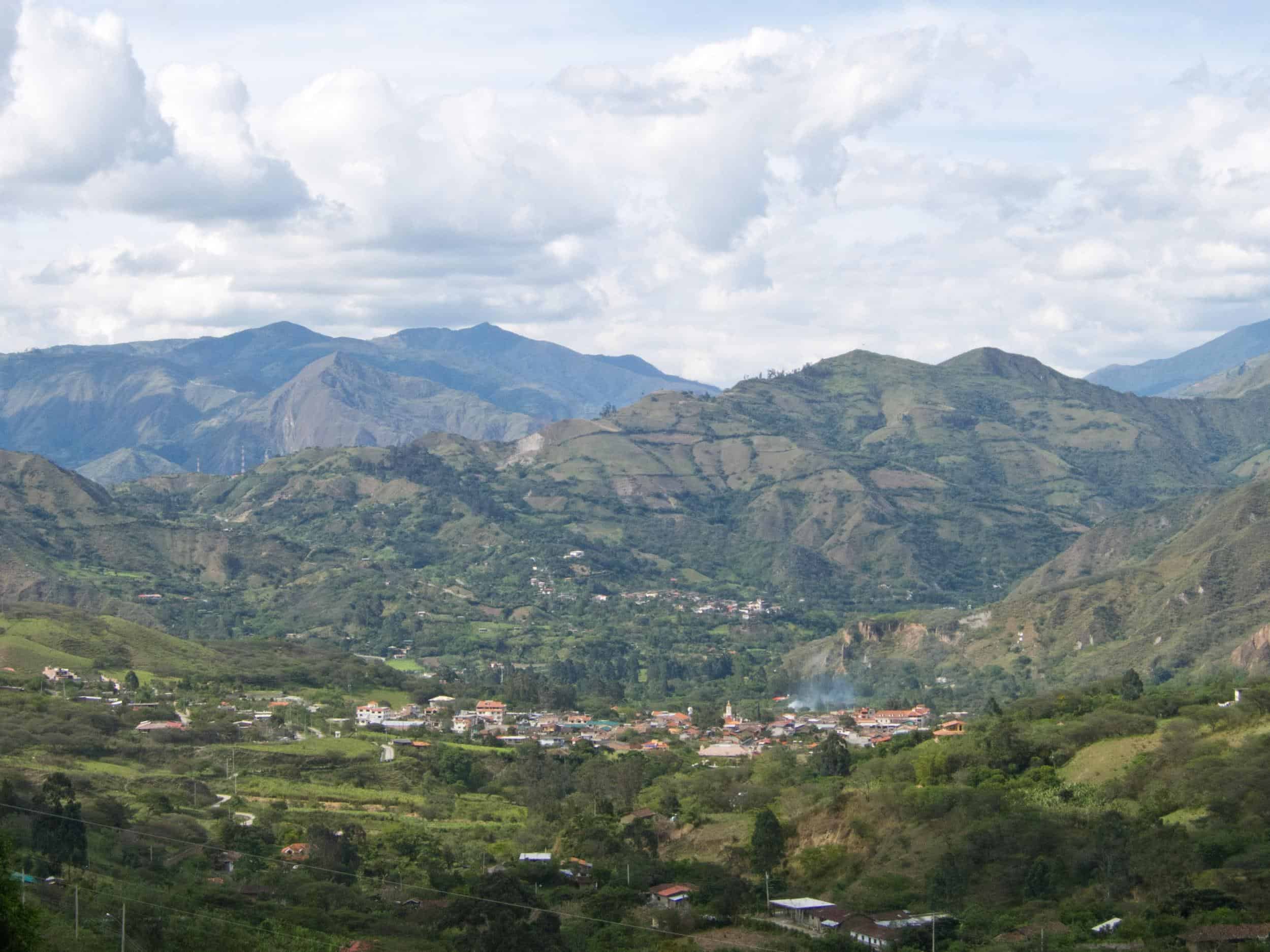 10. Visit Vilcabamba in the Valley of Longevity
Vilcabamba is a pueblo in a valley about 45 minutes south of Loja.
The town's claim to fame is that locals live longer than average lives, with many regularly reaching the 100-year mark.
The pueblo is an excellent jumping-off point for hiking in the surrounding mountains and acts as a gateway for travelers planning to use the inland border crossing with Peru.
Where to Stay in Vilcabamba
La Casa de Matilda is a very well-reviewed hostel offering both dorms, privates, and breakfast. A perfect location, just a short walk to the town center.
Jardin Escondido Vilcabamba is another well-liked spot, breakfast is optional, but it's right in the center with loads of cafes and restaurants nearby. There is a restaurant on-site and an outdoor pool.
***
We hope this guide to the top things to do in Ecuador helped inspire you to plan a trip.
If you're not comfortable going on your own, consider a small-group tour from G Adventures:
Ecuador Encompassed is a 17-day trip that departs from and returns to Quito. It includes seven of the ten places mentioned in this story, including Banos, Tena (the Amazon), Otavalo, Cotopaxi, Cuenca, and Montanita.
Inland and Amazon is a 14-day trip with a similar itinerary, minus the beaches.
Ecuador Mainland & The Galapagos Islands is a 14-day trip combining the best of both worlds. The tour includes Quito, Banos, Tena (the Amazon), and five days in the Galapagos.
Last Updated on October 21, 2021 by Dave Lee